EXTRAIT NICOSIE, CHYPRE, KYPRIA INTERNATIONAL FESTIVAL 2017, 09-2017
EXTRACT NICOSIA, CYPRUS, KYPRIA INTERNATIONAL FESTIVAL 2017, 2017-09

Vidéo pièce complète sur demande ici = info@prodem.ca
Full video piece on demand here = info@prodem.ca

chorégraphe louis-elyan MARTIN choreographer




Le chorégraphe, LOUIS-ELYAN MARTIN, a mis en place l'idée de dualité dès les prémisses de la pièce. En effet, dans les procédés mêmes de la création, il a veillé à confronter sa vision chorégraphique à la personnalité de l'interprète, stimulant ainsi le dialogue corporel et intentionnel, jusqu'à atteindre l'équilibre qu'il envisageait. À travers la liberté d'exécution d'une gestuelle précise, on discerne l'influence du Gaga sur le chorégraphe mais aussi du Tanzteater de par le mouvement imagé associé à la complexité du personnage sur scène. Quant aux systèmes d'improvisation qu'il a mis en place afin de laisser émerger l'intuition et la spontanéité de l'interprète, ils furent implantés au travers de lignes directrices claires, dans un large espace exploratoire.

Ainsi, [ID] DOUBLE incarne la quête identitaire que porte cette femme confrontée au tumulte de ses propres contradictions. Réflexion incisive d'une société souvent perdue entre une représentation fantasmagorique de soi et la réalité, la pièce évolue constamment dans les contrastes, témoignant avec puissance de cette dualité exacerbée. Avec Maria Callas comme fil conducteur sonore, et au travers d'une gestuelle organique, fluide et effrénée à la fois, [ID] DOUBLE retrace l'architecture ambiguë d'une pensée collective – et touche de par son authenticité.

Since he started working on the piece, choreographer LOUIS-ELYAN MARTIN, integrates the idea of duality. Indeed, in the very core of the creation, he made sure to bring face to face his choregraphic vision and the dancer's personality, thus stimulating the physical and intentional dialogue, to reach the balance he foresaw. Through the free execution of a precise body language, you can perceive the influence of Gaga on the choreographer, as well as Tanzteater via images associated to the complexity of the stage character. As for the improvisation systems he set up to give way to the intuition and spontaneity of the dancer, they were established through specific and clear visions, in a large spectrum of space exploration.


Thus, [ID] DOUBLE embodies woman quest for identity confronted by the chaos of her own paradoxes. Sharp reflexion of a society often lost between a phantasmagorical representation of oneself and the reality, the piece evolves in contrasts, testifying with strength of this intensified duality. With Maria Callas as a music common thread, and through an organic, fluid and frantic movement, [ID] DOUBLE traces the ambiguous architecture of a collective notion and moves given its authenticity.
2018-10-05 - 8:30 PM

EDANCO 2018
Festival Internacional De Danza Contemporánea
PALACIO DE BELLAS ARTES, SANTO DOMINGO,
DOMINICAN REPUBLIC

05-10-2018 - 20H30

2018-10-04 - 8:30 PM

EDANCO 2018
Festival Internacional De Danza Contemporánea
PALACIO DE BELLAS ARTES, SANTO DOMINGO,
DOMINICAN REPUBLIC

04-10-2018 - 20H30

30-11-2017


13H30 + 16H00
1:30 PM + 4:00 PM
PARCOURS DANSE, sélection officielle 2017
MAI (Montréal, arts interculturels)
informations
MONTRÉAL, CANADA
2017-11-30
PARCOURS DANSE, official selection 2017
MONTREAL, CANADA

27-09-2017 - 20H30

THÉÂTRE RIALTO
KYPRIA INTERNATIONAL FESTIVAL 2017
EFFE - EUROPE FOR FESTIVALS,
FESTIVALS FOR EUROPE
LIMASSOL, CHYPRE

2017-09-27 - 8:30 PM

RIALTO THEATER
KYPRIA INTERNATIONAL FESTIVAL 2017
LIMASSOL, CYPRUS

25-09-2017 - 20H30

THÉÂTRE THOC
KYPRIA INTERNATIONAL FESTIVAL 2017
EFFE - EUROPE FOR FESTIVALS,
FESTIVALS FOR EUROPE
NICOSIE, CHYPRE


2017-09-25 - 8:30 PM

THOC THEATER
KYPRIA INTERNATIONAL FESTIVAL 2017

NICOSIA, CYPRUS


24-09-2017 - 20H30

THÉÂTRE THOC
KYPRIA INTERNATIONAL FESTIVAL 2017
EFFE - EUROPE FOR FESTIVALS,
FESTIVALS FOR EUROPE
NICOSIE, CHYPRE

2017-09-24 - 8:30 PM

THOC THEATER
KYPRIA INTERNATIONAL FESTIVAL 2017
NICOSIA, CYPRUS

02-12-2016 - 20H00

LE REGARD DU CYGNE
TOURNÉE FRANCE 2016 - FRANCE TOUR 2016
PARIS, FRANCE

2016-12-02 / 8:00 pm.

LE REGARD DU CYGNE
PARIS, FRANCE

30-11-2016 - 21H00

THÉÂTRE JEAN LE BLEU
TOURNÉE FRANCE 2016 - FRANCE TOUR 2016
MANOSQUE, FRANCE

2016-11-30 / 9:00 pm.

THÉÂTRE JEAN LE BLEU
MANOSQUE, FRANCE

25-11-2016 - 19H30

LE CROISEUR
TOURNÉE FRANCE 2016 - FRANCE TOUR 2016
LYON, FRANCE

2016-11-25 / 7:30 pm

.
LE CROISEUR
LYON, FRANCE

03-11-2016 - 20H00

MAISON DE LA CULTURE MARIE-UGUAY
MONTRÉAL, CANADA

2016-11-03 - 8:00 pm.

MAISON DE LA CULTURE MARIE-UGUAY
MONTREAL, CANADA

13-04-2016 / 20H00

MAISON DE LA CULTURE MERCIER
FESTIVAL VUE SUR LA RELÈVE
MONTRÉAL, CANADA

2016-04-13 / 8:00 pm.

FESTIVAL VUE SUR LA RELÈVE
MONTREAL, CANADA

05-04-2016 / 20H00

THÉÂTRE FAIRMOUNT
FESTIVAL VUE SUR LA RELÈVE
MONTRÉAL, CANADA

2016-04-05 / 8:00 pm.

FESTIVAL VUE SUR LA RELÈVE
MONTREAL, CANADA

31-03-2016 / 20H00

MAISON DE LA CULTURE ROSEMONT
MONTRÉAL, CANADA

2016-03-31 / 8:00 pm.

MAISON DE LA CULTURE ROSEMONT
MONTREAL, CANADA

12-03-2016 / 12H30

CENTRE PHI
FESTIVAL INTERNATIONAL DU FILM SUR L'ART
MONTRÉAL, CANADA

2016-03-12 / 12:30 pm.

INTERNATIONAL FESTIVAL OF FILMS ON ART
MONTREAL, CANADA

28-08-2015 / 20H00

MAISON DE LA CULTURE MAISONNEUVE
FESTIVAL ZONEHOMA
MONTRÉAL, CANADA
FESTIVAL ZONEHOMA
MONTREAL, CANADA

_D'abord interprète en danse contemporaine (O Vertigo, Carré des Lombes, Alan Lake Factorie, Montréal Danse …), Louis-Elyan Martin s'affirme très vite en tant que chorégraphe en parallèle. En 2015, il crée [ID] DOUBLE, sa première pièce long format. Collaborant rapidement avec les productions EM pour la diffusion, [ID] DOUBLE est présentée depuis les deux dernières années à travers le réseau Accès Culture Montréal, part en tournée en France ainsi qu'en République de Chypre et est en préparation de ses activités 2017-2018. En 2016, il est subventionné par le CALQ pour sa nouvelle pièce, il reçoit aussi le soutien d'acteurs majeurs comme Circuit-Est, L' EDCM et le CCOV pour développer son travail. S'inspirant de la vulnérabilité de l'être humain et de ses dualités morales, son esthétisme se déploie sur un terrain de jeu inépuisable de recherche corporelle et de charge émotionnelle_


_Mostly a contemporary dancer (O Vertigo, Carré des Lombes, Alan Lake Factorie, Montréal Danse …) Louis-Elyan Martin assert himself quickly in parallel as a choreographer. In 2015, he creates [ID] DOUBLE, his first full length piece. Collaborating quickly with EM Productions for distribution, [ID] DOUBLE has been in the last two years presented through Réseau Accès Culture Montréal, went on tour in France, Republic of Cyprus and is preparing its 2017-2018 activities. In 2016 he is subsidised by CALQ for his new creation, he also receives the support of major dance operators like Circuit-Est, EDCM and CCOV to develop his work. Inspired by the vulnerability and moral dualities of the human being, his aesthetic unfolds on an endless playground of movement research and emotional load_





chorégraphe_
louis-elyan MARTIN
choreographer_


interprète et collaboratrice à la choregraphie_
laurie-anne LANGIS
dancer and collaborator to choregraphy_


élian MATA
production_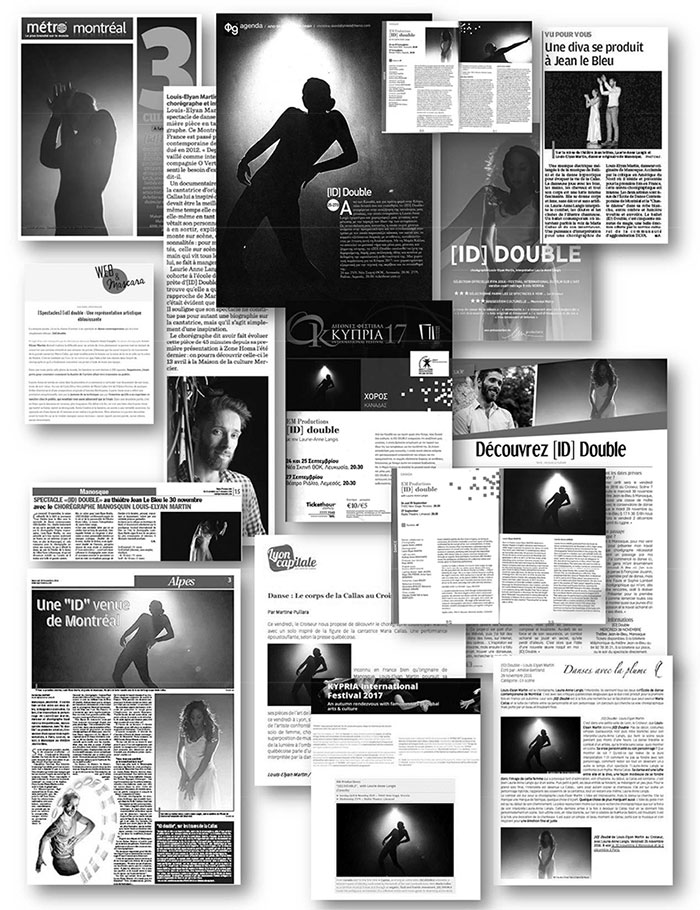 SÉLECTION OFFICIELLE PARCOURS DANSE 2017 CANADA

SÉLECTION OFFICIELLE
KYPRIA INTERNATIONAL FESTIVAL 2017 CHYPRE

« An autumn rendezvous with famous stars of global arts & culture - KYPRIA International Festival 2017 »
CyprusAlive.com / CHYPRE

★★★ SÉLECTIONNÉ PARMI LES 12 SPECTACES À VOIR ...
Le Draveur / Québec, CANADA

★★★ SUGGESTION CULTURELLE ...
Montréal Métro / Québec, CANADA

« LE CORPS DE LA CALLAS ...
UNE PERFORMANCE ÉPOUSTOUFLANTE»
LYON CAPITALE / Lyon, FRANCE

« une musique électrique mélangée à de la musique de Bellini et de la danse hypnotique pour évoquer la vie de la Calas. La danseuse joue avec les bras, les mains, les cheveux et tout son corps est une lutte interne fascinante. Elle se donne corps et âme, sans décor et sans artifice. Une puissance d'interprétation pour une chorégraphie de Louis-Elyan Martin. Cette œuvre chorégraphique est intense. Le ballet ID Double, c'est cinquante minutes de magie, une belle émotion offerte» LA PROVENCE / Manosque, FRANCE

« UNE DE SES PIÈCES LES PLUS ÉMOUVANTES ET INTENSES»
HAUTE-PROVENCE / Manosque, FRANCE

« au début, la Callas est lointaine ; c'est bien Laurie-Anne Langis qui est en scène. Puis petit à petit, les deux entités se fondent, se mélangent un peu plus. Pour le grand solo final, l'interprète est devenue La Callas... sans pour autant copier la chanteuse. Elle est sur scène un personnage hybride, rappelant des souvenirs de la cantatrice, tout en restant elle-même. Son ultime solo, en robe blanche, sur l'air si célèbre de Norma de Bellini, est troublant. Il est à la fois une évocation de la chanteuse. Il est aussi un simple et beau moment de danse, porté par la musique et s'en inspirant pour une émotion fine et juste»
DANSES AVEC LA PLUME / Lyon, FRANCE

« ... prestation exceptionnelle, tant par la justesse de sa technique que par l'émotion ... Le spectacle est d'une durée de 45 minutes et est réalisé à la perfection. Mon attention n'a pu être décrochée avant la toute fin car je ne voulais manquer aucun morceau – aucun regard, aucune parole, aucun silence, aucun mouvement ... La magie du travail collaboratif des talentueux compositeur, chorégraphe et interprète offre un spectacle dynamique, sensible et poignant, articulé avec beaucoup de justesse.»
Sophie Leduc, Web & Mascara / QUÉBEC, CANADA

SÉLECTION OFFICIELLE FIFA 2016
FESTIVAL INTERNATIONAL DU FILM SUR L'ART
version court métrage 8 min NORMA / QUÉBEC, CANADA


OFFICIAL SELECTION PARCOURS DANSE 2017 CANADA

OFFICIAL SELECTION
KYPRIA INTERNATIONAL FESTIVAL 2017 CYPRUS

« An autumn rendezvous with famous stars of global arts & culture - KYPRIA International Festival 2017 »
CyprusAlive.com / CYPRUS

★★★ SELECTED FROM THE 12 SHOWS TO SEE ...
Le Draveur / Quebec, CANADA

★★★ CULTURAL SUGGESTION ...
Montréal Métro / Quebec, CANADA

« CALLAS'S BODY ... AN ASTONISHING PERFORMANCE »
LYON CAPITALE / Lyon, FRANCE


« electric music mixed with Bellini's music and an hypnotic dance to bring up Calas's life. The dancer plays with her arms, hands, hair and her whole body is a fascinating internal fight. She gives herself body and soul, without any set or artifices. A powerful performance for a choreography signed by Louis-Elyan Martin. This piece is intense, ID double is fifty minutes of magic, a beautiful emotion as a gift ! »
LA PROVENCE / Manosque, FRANCE


« AN INTENSE AND MOVING PIECE »
HAUTE-PROVENCE / Manosque, FRANCE

« at first La Callas is distant, it is Laurie-Anne Langis on stage. Then step by step, the two entities merge, blend a little more. For the great final solo, the dancer became La Callas ... without imitating the singer. She is on stage a hybride character, recalling the singers memories, while staying true to herself. Her ultimate solo, in a white dress, on the famous Bellini's Norma, is both an evocation of the singer, it is also a beautiful moment of pure dance, driven by the music and using it for a fine and true emotion»
DANSES AVEC LA PLUME / Lyon, FRANCE



« ... exceptionnal performance, both through technical precision and emotion ... The show length is 45min and is constructed perfectly. My attention was drawn until the very end because i didn't want to miss any piece of it - not a gaze, not a word, not a silence, not a movement ... the magic of the talented music composer, choreographer and dancer collaborative work offers a dynamic, sensitive and poignant show, put together with great accuracy.»
Sophie Leduc, Web & Mascara / QUEBEC, CANADA



OFFICIAL SELECTION FIFA 2016
FESTIVAL INTERNATIONAL DU FILM SUR L'ART
8 min version short film NORMA / QUEBEC, CANADA

_Avec pour trame de fond la quête identitaire de soi, [ID] DOUBLE est en perpétuelle contradiction et porte cette femme, seule sur scène, au paroxysme de cette idée de doute. Le corps de l'interprète reflète le dilemme existentiel entre l'image chimérique de soi que l'on souhaite projeter et l'authenticité de qui l'on est vraiment – notion collective largement portée par une société actuelle imbue du paraître. Évoluant constamment dans les contraires et les contrastes, l'œuvre se déploie en deux actes, deux opposés, deux antagonistes. Dénuée de tout artifice, [ID] DOUBLE se canalise sur la nature humaine de l'interprète et s'affirme dans une simplicité du mouvement oscillant entre délicatesse et frénésie. La gestuelle, inspirée entre autres du quotidien mais aussi d'images allégoriques, se découpe dans l'espace par une architecture de lumières minutieuse, précisant et guidant parfois l'œil du spectateur. L'habillage sonore, judicieux amalgame entre musiques contemporaines originales et œuvres de Maria Callas, ne devient qu'un avec l'interprète. Le lien viscéral qui unit les deux entités envahit l'espace et renforce la thématique générale de la pièce. De l'ombre à la lumière, du corps instrument au corps animal, [ID] DOUBLE explore les méandres de la pensée, pour se retrouver finalement, dans un profond et puissant élan du moment présent_


_With the quest of identity as an outline, [ID] DOUBLE lives in a perpetuous contradiction and carries this woman, alone on stage, to the climax of the idea of doubt. The dancer's body reflects the existential dilemma between a quixotic image of the self which one wishes to project and the authenticity of who one really is - collective notion widely carried by a modern society full of its appearance. Constently evolving in opposites and contrasts, the piece unfolds in two acts, two antipodes, two antagonistes. Stripped of any artifice, [ID] DOUBLE focuses on the dancer's human nature and assert itself in a simplicity of the movement oscillating between gentleness and frenzy. The body language, mainly inspired by daily life but also allegorical images, cuts through space with a meticulous architecture of the light, sometimes leading and refining the audience eye. The sound design, wise mixture of contemporary original score and Maria Callas's famous operas, becomes one with the dancer. The deep rooted connection that bonds these two entities takes over the space and strengthen the general thread of the piece. From shadow to light, from instrumentalized to animal body. [ID] DOUBLE explores the twists and turns of the mind, to finally find itself, in a deep and powerful momentum of the now_